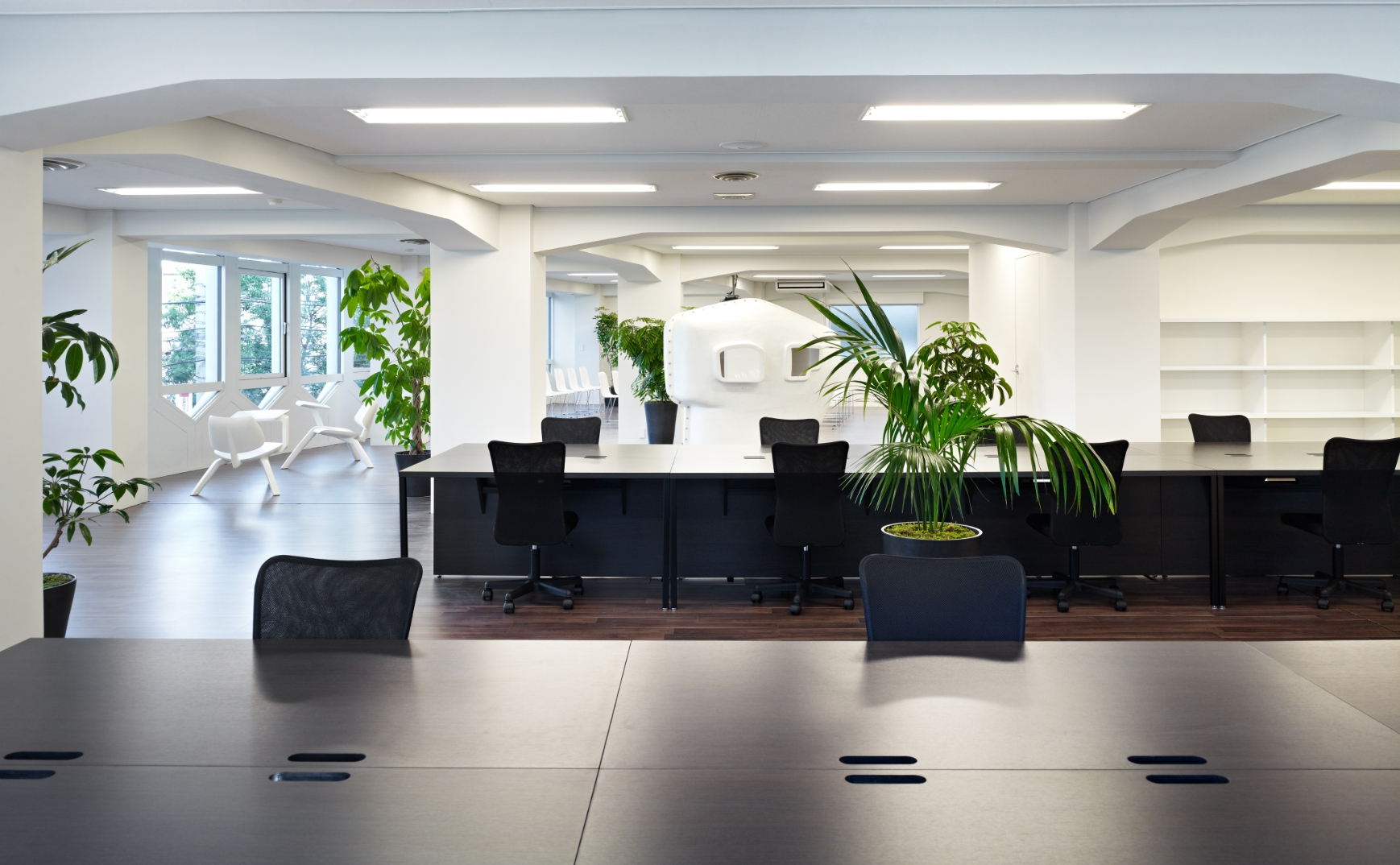 FD office
FD オフィス
約400㎡、50人規模のIT系オフィスのインテリア。
1973年に建てられたこのオフィスビルは、渋谷中心部の角地に建ち、南西・北西に向かって六角形の窓が連なる。
クライアントの要望は統一感のあるゆったり落ち着いた空間。
床は全面同種類のフローリングを敷き詰める。
窓は茶色のアルミサッシ枠を壁と一緒に白く塗ることで、空間の統一感が生まれ外部へと繋がる。
窓の向こうに広がる樹木が心地良く感じられる北西の空間は、ブレインストーミングやリラクゼーション、そして社内セミナー等に使われ、南西に長く配置されたオペレーションは固定されず、プロジェクトごとに移動しながら使われる。
室内に置かれたプランターは、室内外の空間に統一感を持たせ落ち着いた空間を造ると同時に、間仕切り的な役割も果たしている。
厳しい条件の中、最小限の操作で既存空間を最大限に生かすことで、統一感のあるゆったり落ち着いたオフィス空間に仕上がった。
An interior project for IT-style office accommodates 50 people.
The original building was built in 1973 and stands on a corner lot in the center of Shibuya. It is recognizable by the rows of hexagonal windows on the south-west and north-west sides of the building.
The client requested a spacious and relaxed space with a sense of unity.
The floor was covered from wall to wall with a uniform flooring material.
The brown aluminum sash of the window frames were painted white to match the wall, which visually unifies the space while visually connecting the space to the exterior space.
The north-west room opens up to the view of trees through the windows and creates a comfortable space that is perfect for brain-storming, relaxation, and company seminars. The system placed along the south-east axis is not fixed, so that it can be moved for different projects.
The plants in the room create a relaxed space, unify the interior with exterior through the windows, and at the same time, serve to partition the room.
A uniform, spacious and relaxed office space was created under limited conditions by maximizing the essence of existing space with minimum manipulation.

data
名称

FDオフィス

所在地

東京都渋谷区

主要用途

オフィス

面積

425.40m²

施工

株式会社ラートビー

写真

阿野太一
project

FD office

location

Tokyo, Japan

principal use

office

building area

425.40m²

general contractor

lato-b

photo

Daichi Ano
other works